In Memory
Wendy Deters (Hernandez)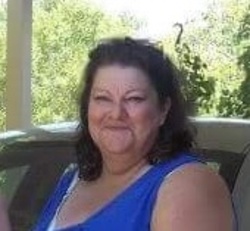 Wendy Kay Deters Hernandez, 56, of Marshalltown, passed away peacefully on Saturday, May 28, 2016 at 2:10 p.m. surrounded by her loved ones at the Iowa River Hospice Home in Marshalltown.
Memorial services for Wendy will be held on Thursday, June 2, 2016 at 1:00 p.m. at the Mitchell Family Funeral Home in Marshalltown. Memorials may be directed to the family to be used for a headstone.
Wendy Kay Deters was born on March 13, 1960 in Eldora, Iowa to Ronald Thomas and Elinor Ann (Brown) Deters. She received her education in Sioux City and Marshalltown. Following her education, Wendy worked as a CNA, a stay-at-home mom while she raised her children, and then as a daycare provider until her passing. She enjoyed sewing, crocheting, crafts, clock collecting, gardening, her computer, and her dogs, Freeda, Lyric and Atticus. More than anything; "Grandma Honey", as she was affectionately called, enjoyed spending time with her grandchildren and family.
Wendy is survived by her children: Jose M. (Ya-Ling) Hernandez of Taiwan, Allen (Amy) Hernandez of Grinnell and Alicia (Jeremy Odom) Hernandez of Marshalltown. Mom: Elinor (Joe) Shurts of Kimberling City, MO. Grandchildren: Caleb, Natalia, Emilio, Alexandria, Aundraya, Annabelle, Alayna, Aleigha and Austin. Great grandchildren: Emalyna and Malakai. Siblings: Karen Deters of Ankeny, Heather Renaud of Sully, and Rochelle Deters of Marshalltown. She is also survived by the father of her children: Jose A. Hernandez, of Marshalltown, as well as her very special friends that she considered to be her daughters: Alanna (Rob) Meling of Marshalltown and their children Jayden and Colin. As well as, Amber Mulinix of Gladbrook and her children Lily, Kaulin and Noah. She is also survived by nieces, nephews and other family members.
Wendy is preceded in death by her son, Willie Hernandez, daughter, Mystique Fields, father, Ronald, and her life partner, Valerie Davey.