In Memory
Leann Weaver (Tompkins)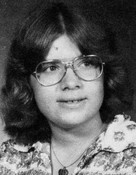 In Loving Memory...
LeAnn Tompkins
6/11/60 - 6/10/07
LeAnn L. (Mrs. Michael) Tompkins, 46, of 1215 W. Anson Street, Marshalltown, died Sunday morning, June 10th, at the MMSC while in their care and of the Iowa River Hospice. Memorial services and a celebration of her life will be held at 10:30 a.m. Thursday, June 14th, at the Mitchell Family Funeral Home with Pastor Gail Thiessen of the Central Christian Church officiating. Private interment will be at a later date. Friends may all at the Mitchell Family Funeral Home from 6-8:00 p.m. on Wednesday. For condolences, please visit www.mitchellfh.com. The Mitchell Family Funeral Home is caring for LeAnn and her family. Ph 844-1234.
Born on June 11th, 1960, in Iowa City, Iowa, she was the daughter of Fred Lee and Gloria Luther (Coatney) Weaver. She graduated from the Marshalltown High School's Class of 1978 and received her LPN certificate from MCC in 1979. LeAnn was an LPN for the Iowa Veterans Home for 17 years. On September 1st, 1979, she was united in marriage to Michael Tompkins at the Central Christian Church in Marshalltown. Mrs. Tompkins was a member of the Central Christian Church, a former member of the Mask and Dagger (a theatre performance group for MHS), treasured her family, her animals, she and her husband's membership to the Chinese Southern Boxing Academy and appreciated the Asian heritage. She will be greatly missed by many.
Left to mourn her loss is her loving husband of 27 years, Mike, her three children: Jessica Head and Derek Tompkins of Marshalltown and Kyle Tompkins at home, her grandmother Helen Rechtenbach of the Villa del Sol and other family members as well as a host of friends.
In death she has rejoined her parents.