In Memory
Mary Beth Wawrzyniak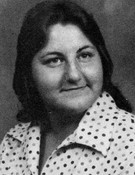 Mary Beth Wawrzyniak passed away at the age of 49 on December 27, 2008 after a hard fought battle with breast cancer. Mary Beth is preceded in death by her parents Michael Joseph Wawrzyniak and Kathryn Maxine (Cook) Wawrzyniak. Mary was born on June 23, 1959 in St. Joseph, MO and was a graduate of Marshalltown High School, Marshalltown, IA. She was a past member of the Order of Eastern Star and tremendously enjoyed her career at St. John's Regional Medical Center where she worked as a medical records clerk for the past 14 years.
Mary Beth leaves behind her daughter, Megan Wawrzyniak, a Senior at Joplin High School; her loving companion Scott Campbell and his daughters Danielle and Nichole in Joplin, MO. In addition she is survived by her brothers Daniel L. Wawrzyniak, St. Joseph, MO, Joseph M. Wawrzyniak, Joplin, MO, Stephen D. Wawrzyniak, Kansas City, MO, Roger G. Wawrzyniak, Raytown, MO; one sister Ann M. Hughes, St. Joseph, MO; 3 nephews; 4 nieces; and many great nieces and nephews. Mary leaves behind many long time friends and coworkers from both St. John's and Oak Hill Hospital. She will be remembered as a loving mother and companion, a caring sister, and a dear friend who shared her humor and love of life with others.
In lieu of flowers contributions may be made to St. John's Hospice. A celebration of her life will be held at 10:30 a.m. Tuesday, Dec. 30th at Calvary Baptist Church, followed by visitation. Funeral services and interment in St. Joseph, MO will be held at Mount Olivet Cemetery, 2600 Lovers Lane (816) 279-5005, beginning at 10:30 a.m. on Wednesday, Dec. 31st. Ed Hahn, minister will officiate. Arrangements are under the direction of Parker Mortuary, 1502 S Joplin, Joplin, MO (417) 623-4321.