In Memory
Michael Pruckler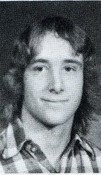 Michael E. Pruckler, 48, of Waverly, Iowa, died Monday, August 18, 2008, at Sartori Memorial Hospital, Cedar Falls, following an apparent heart attack.

He was born on February 20, 1960 in Oelwein, Iowa, the son of Edward and Martha (Blomme) Pruckler. He attended school in Oelwein and at the age of eight he moved with his family to Marshalltown, Iowa. Mike graduated from the Marshalltown High School in 1978 and became employed by the Chicago Northwestern Railroad, first as a conductor and later a brakeman. Mike married Traci Carter and to this union two children were born, Alex and Asia. The couple later divorced. Mike became a Plumbers Apprentice for Klootwyk Plumbing in Marshalltown, later earning his Plumber's License. In 2001, Mike moved to Waverly to be near his girlfriend, LuAnn Buchholz, and continued his plumbing career. He was currently employed at Black Hawk Plumbing in Waterloo.

He was a member of Heritage United Methodist Church, Waverly, where he had served the church in several different capacities. He loved watching football, especially the Pittsburgh Steelers and UNI Panthers, attending air shows at Oshkosh, Wisconsin, dancing, and running 5K and 10K runs. His greatest enjoyment, though, came from watching his children's successes.

Mike is survived by his two children, Alex Pruckler of Carrollton, Texas, Asia Pruckler of Nevada, Iowa; his love of his life and companion, LuAnn Buchholz and her children, Dane and Miranda of Waverly; two sisters, Connie (Jerry) Olsen of Boone, Iowa, Debbie (Michael) Hahne of Scottsdale, Arizona; one brother, John Pruckler of Des Moines, Iowa; two nephews; three nieces, and a host of friends. He was preceded in death by his parents.
Church and family conducted memorial services will be held on Friday, August 22, 2008, 10:30 am at Heritage Methodist Church, Waverly. Mike's body was cremated and burial of the cremains will be at 2:00 pm on Friday at the Woodlawn Cemetery, Oelwein. The family will greet friends on Thursday from 5:00 pm until 8:00 pm at the Kaiser-Corson Funeral Home, Waverly. In lieu of flowers memorials may be directed to the family for a later designation. Online condolences may be left at: www.kaisercorson.com.