In Memory
Wendell Lee Mercer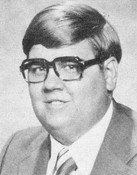 In Loving Memory...
Wendell Mercer
5/12/59 - 2/18/07
Wendell Mercer, 47, of Albion, died Sunday, February 18th, at the University of Iowa Hospitals and Clinics in Iowa City.
Funeral services and a celebration of his life will be held at 11:00 a.m. Thursday, February 22nd, at the Albion Presbyterian Church with Pastor Bea Lebuda officiating. He will be laid to rest in the Albion Cemetery with a fire truck procession by his colleagues from the Albion Volunteer Fire Dept. Friends may call at the Mitchell Family Funeral Home from 5-7:00 p.m. on Wednesday. Memorials may be directed to the family. For condolences, please visit www.mitchellfh.com. The Mitchell Family Funeral Home is caring for Wendell and his family.
Wendell was born on May 12th, 1959, in Waterloo, Iowa. He graduated from the Marshalltown High School's Class of 1977 and attended college in Creston, Iowa. He worked in meat cutting at Fareway and later did farming. Wendell served on the Albion City Council, the Albion Library friends, the Albion Volunteer Fire Dept. and in general, was an Albion supporter. He loved his community, farming, his family and being around friends and the fire department.
Left to mourn his loss is his sisters: Sheryl Mercer of Muscatine, Iowa, Ramona Dent in Florida, Judy (Clayton) Graves of Marshalltown and Kim Mercer of Albion, nieces, nephews and a host of friends.
In death he has rejoined his father, Rex.