In Memory
Kelly Dean Karns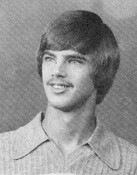 In Loving Memory...
Kelly Karns
8/24/59 - 4/9/12
Kelly Karns, 52, of Darling, Texas, former Marshalltown resident, died Monday, April 9, at his home.
Funeral services will be held at 1:30 p.m. Monday, April 16, at the Mitchell Family Funeral Home with Fr. Jim Miller of St. Mary's Catholic Church officiating. He will be laid to rest in the Riverside Cemetery. Visitation will be held one-hour prior to the services. For condolences, please visit www.mitchellfh.com . Ph: 641-844-1234.
Born on August 24, 1959, in Marshalltown, he was the son of Kenneth and Shirley (Praska) Karns. He graduated from the Marshalltown High School. Currently, Kelly was employed in the Dallas area at an electrical supply company.
Left to cherish his memory are his daughter, Ashley Nicole (Gavino) Jacobs of Colfax and their children Dylan, Drake and Londyn; his mother Shirley, sister Shelly (Kevin) Lynk of Marshalltown, brother Kip Karns of Marshalltown, sister-in-law Sherry Karns of Marshalltown as well as nieces, nephews, aunts, uncles and cousins.
In death, Kelly rejoined his dad and brother, Kent.