In Memory
Patty Hayes (Nordyke)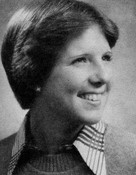 Mrs. Patricia Jo Hayes Nordyke, 46, of Monrovia, MD passed away September 2, 2006, at the University of Maryland Hospital, Baltimore. She was the wife of Wayne D. Nordyke, her husband of 21 years.

Born December 25, 1959 in Waukon, Iowa she was the daughter of Don M. and Ruth M. McGowan Hayes of Marshaltown, Iowa. She was a homemaker. Patty attended Marshalltown Public Schools in Marshalltown, Iowa and graduated from Marshalltown High School in 1978. She graduated from Northeast Missouri State University (now known as Truman State University) in Kirksville, Missouri in 1982.

Surviving in addition to her husband and parents are 2 children: Gary Nordyke and Katlin Nordyke at home; 2 sisters: Carol Skov and husband Mike of Estero, FL and Ann Isgrig and husband Jeff of Newton, IA, as well as many other family members and friends.
Services: A memorial service will be held at 4:00 PM on Monday, September 11, at Stauffer Funeral Home, 8 E. Ridgeville Blvd., Mount Airy, MD.

Interment will be private
In lieu of flowers, the family requests that memorial contributions be sent to one of the following or to a charity of choice: First Presbyterian Church, 101 S. Center St., Marshalltown, IA 50158 or The Community Foundation of Frederick County, 312 E. Church Street, Frederick, MD 21701. (In the memo area of the check print Urbana Foundation Scholarship Fund. This fund provides college scholarships to students graduating from Urbana High School.