In Memory
Jim Duncan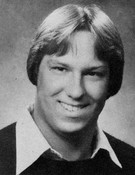 Jim Duncan, 37, of 1639 D. Avenue, NE, Cedar Rapids, died at his home Tuesday, October 22, 1996, from a heart attack. Jim was born the son of Bruce and Connie Peterson Duncan on October 14, 1959, in Pittsburgh, Pennsylvania. He was an avid fisherman and golfer. Jim was a self-employed carpenter, working for McNamara Custom Carpentry.
Survivors include his parents, Bruce and Connie Duncan of Austin, Texas, a brother, Steve Duncan and wife Laurie of Needham Massachusetts; a sister, Anne Duncan Nall and husband Dave of North Henderson, Illinois; maternal grandparents, Mr. and Mrs. Kermit Peterson of Orlando, Florida; paternal stepgrandmother, Mrs. Cleo Duncan of DeKalb, Illinois; a niece, Katie Duncan; four nephews, Alex and Duncan Nall and Travis and Tyler Duncan; and uncles and aunts, including Howard Pearle, Claudia Pearle and their children, Molly and Adam of Mahopac, New York.
He is preceded in death by his paternal grandparents Donald V. Duncan and Irma S. Duncan.
Services wer held on Saturday, October 26, 1996 at Murdoch Funeral Hime in Marion, Iowa. Conducted by Rev. Nick Longworth. Burial will be at a later date.